How do hundreds of thousands of newspapers actually end up in the region's letter boxes at dawn – and reliably in all weathers, six days a week? How do more than a million free advertising papers get into nearly every household in the region? Behind this logistical service is RP Logistik, which logistically organises and delivers the titles of Rheinische Post as well as national print media, magazines and free advertising papers from other publishers.
As one of the largest newspaper distribution companies in Germany, RP Logistik GmbH ensures that a large number of different print products are delivered reliably and on time to the recipient every day. Good organisation, reliable drivers and motivated delivery staff are the success factors for a smooth delivery process. The logistics experts at Rheinische Post Mediengruppe manage a complex process, supported by state-of-the-art software, to make this happen. RP Logistik GmbH controls the delivery of the quantities for the individual regions in the distribution area. The hot off the press newspapers are packed into handy packages during the night according to logistical specifications, wrapped in foil for protection and tied up. Forwarding agents then transport the parcels together with the other delivery products to the press wholesalers and to around 950 unloading points. The delivery fleet makes up to 150 different trips every day. The employees of the four delivery companies in the regions are already waiting at the unloading points: around 3,200 newspaper delivery staff swarm out to bring the Rheinische Post and other titles to the readers.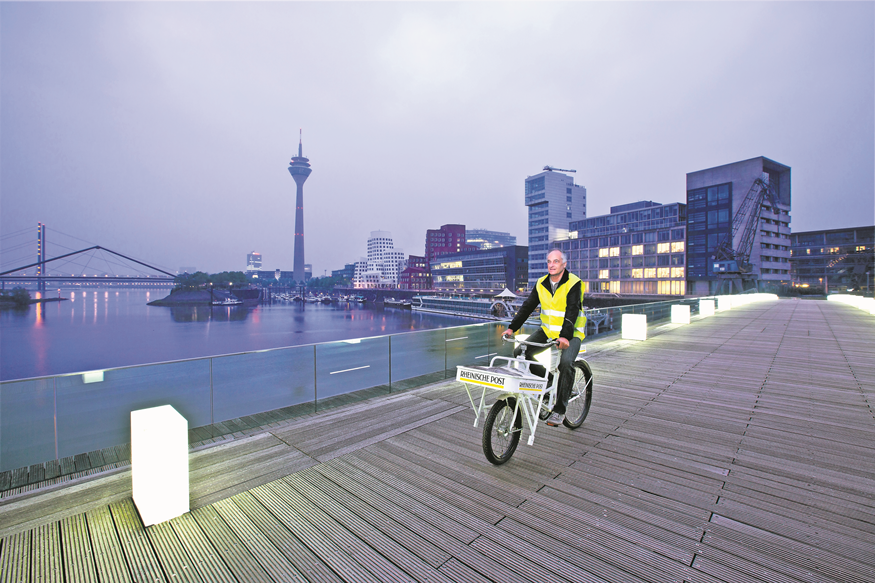 RP Logistik GmbH organises about 300 tours in the region for 14 different free advertising papers with a circulation of more than one million copies, in addition to the logistics for the daily newspapers. More than 3,000 delivery staff work there to provide the readers with the weekly information in the free advertising papers. In addition, more than 200,000 other printed products are delivered directly to households every week. Modern software supports all processes: from delivery management, dispatch control and route planning to quality management. The Bundesverband Deutscher Anzeigenblätter (Federal Association of German Free Advertising Papers) has repeatedly awarded the delivery organisation the "GPZ" seal of quality for tested delivery of leaflets.
RP Logistik GmbH reaches about two million households daily and is also your contact for tailor-made solutions in the field of print logistics (e.g. mailings, letters, merchandise shipments).
If you would like to make use of RP Logistik GmbH's logistics services, please obtain information about the wide range it offers on www.zustellnetz.de.