How do hundreds of thousands of newspapers find their way into the letterboxes of the region at dawn - and reliably in wind and inclement weather, six days a week? Behind this logistical achievement lies the Rheinisch-Bergische Zeitungsvertrieb, which delivers both the titles published by the Rheinische Post, as well as national print media and magazines from other publishers.
Rheinisch-Bergischer Zeitungsvertrieb
As one of the largest newspaper distribution companies in Germany, Rheinisch-Bergische Zeitungsvertrieb ensures that a large number of different printed products are delivered reliably, and on time, to the customer. Good organisation, reliable drivers and motivated delivery agents are the success factors for achieving a smooth delivery process. In order for this to succeed, the logistics experts at the Rheinische Post Mediengruppe manage a complex process, supported by state-of-the-art software. The newspaper's sales department controls the delivery of the respective quantities for the individual regions within the distribution area. The freshly printed newspapers are packaged at night according to logistical specifications into handy packages and then placed in foil and tied for protection. Forwarding service providers then transport the parcels together with the other delivery products to the press wholesalers and to about 1,250 delivery points. Every day up to 184 different delivery rounds are driven by the delivery fleet. Employees from the 11 delivery service providers in the regions are waiting at the delivery points: Roughly 3,200 newspaper deliverers swarm out to bring the Rheinische Post and the other titles to readers.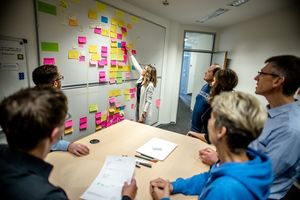 However, should there be any delays, Digital Dialog in Langenfeld, with its competent staff, supports newspaper distribution with its hotline and takes care of the timely resolution of any problems.
Rheinisch-Bergische Zeitungsvertrieb GmbH & Co. KG is also your point of contact for individual solutions concerning the delivery of your print products and addressed mailings (e.g. dialogue marketing mailings) and we have a lot of experience in delivering to end customers together with our long-standing partner companies and holdings. Get in touch with us!