circ IT takes care of the Rheinis­che Post Me­di­en­gruppe's tech­nol­o­gy. It op­er­ates on the mar­ket as an IT ser­vice provider for me­dia and me­dia-re­lat­ed com­pa­nies. Its cus­tomers in­clude well-known pub­lish­ing hous­es.
Connecting people
circ IT is one of the largest IT service providers for publishing companies in Germany and supports businesses in all technical and administrative matters. With over 10,000 users, circ IT can deliver more affordable services to publishers operating on their own.
Whether it be hardware such as phones or data centres, systems for business organisation, journalistic portals, or online solutions such as app developments, front end/back end developments, intranet sites or webmasters, circ IT and its some 150 employees solve any IT task in a reliable, successful and customer-friendly manner.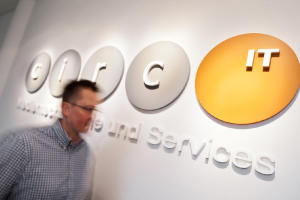 Your contact
Michael Staade
Phone 0211 82824 50 20
Our expertise
Online services
Consulting/project planning: technology, strategy, mobile, SoM, digital, SEO/SEM
Concept development: mobile apps, multi-channel publishing solutions, SoM guidelines
Implementation: CMS (InterRed, Polopoly)

Media services
ERP services: sales (MSD), advertisements (MAM), marketing (CRM)
Media applications: editorial work/agencies, advertisements/production, planning/content make-up

Infrastructure services
Support: service desk, desktop service, system management, end-to-end data centre services, state-of-the-art server technologies, SAP services, dedicated public cloud
Network management: IT networks, telecommunications services

circ IT key facts
200 employees
Management of more than 10,000 AD users/over 4,600 SAP users
Operation of more than 1,500 physical or virtual servers in two data centres
Connection of over 130 locations via WAN
Provision of over 8,000 telecommunications ports
Support given to 30 newspaper titles and over 25 online portals